by Susan Smith
This question comes to me often: When can I ride my horse? How much can I ride my horse?
In our society, there is a strong push to get horses back to work after an injury or illness, just as there is with people. If you have a surgery, you can be back to work pretty quickly these days after some procedures. The problem with this is that the body may need longer to recover and may be playing catch-up.
At the same time, movement is essential to the health of the body. The horse may need a gradual curve of gentle techniques and movement exercise before actual work. Surgery interrupts the regular function of  the body. Any injury or surgery affects the entire organism.
The liver controls tendons and ligaments, for example, so when t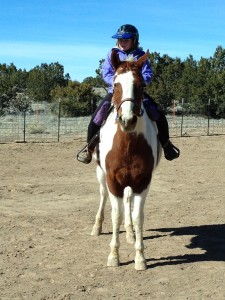 hose areas are affected, the liver is deficient in fluids and therefore the tendons and ligaments are also not getting vital fluids and don't move as efficiently.
I use the example of a horse hitting its head really hard and getting stitches. Just because the vet has deemed him "fine" and patched him up, doesn't mean he is ready to roll. The horse may exhibit strange behavior after the bump on the head, sometimes neurological symptoms such as wobbliness. Or sometimes symptoms take years to manifest.
I've often asked clients if their horse has had a head injury at any time, because of something I've seen happening (or not happening) in the body. "Oh, yes, ten years ago he hit his head on the trailer but it healed up just fine."
As we know, our bodies hold a road map of everything that has happened in our lives, and horses' too. Everything – physical, emotional, you name it, it's in there. That's why every injury or illness needs support from within, not just from without.
Usually the vet will have a timeline for when to begin hand-walking, or lunging your horse after an injury. The timelines after specific injuries, such as ligament and tendon injuries, falls, illness, etc. will help you understand how many weeks of one activity you may have and how long to engage in it. You will have to depend on your knowledge of your horse and how he is feeling to know whether the vet's expectations meet what your observations bear out.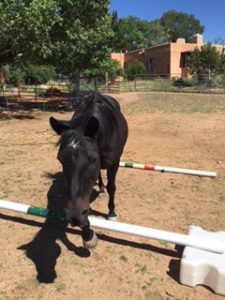 When I was endurance riding, our ride vets would remind us that we knew more about our horses than they did, in one way. We were around our horses all the time. We knew their habits, and we knew when they were doing fine and when they were not.
My gelding Khami was a funny example of that. He used to like to sleep flat out on the ground, while tied to the trailer, with his eyes wide open, when at an hour-long vet check. The local New Mexico ride vets knew this habit of his and didn't worry. When we rode in Paonia, Colorado once, he did this and the vet was frantic. He said I must get my horse up, he was worried and couldn't find any vital signs. Khami got up to see what all the commotion was about, but he was very well rested. His vital signs were fine and he went on to finish a 2-day 100.
The question of when to ride your horse is going to vary with some horses a great deal. It depends on whether they are fit to be ridden, and for how long they can be ridden. It depends on their age, and their temperament and training. The saddle and bridle. The person who is riding them. The owner may have to modify his/her expectations of what the horse can accomplish for awhile.
I look at a lot of factors:
What is his facial expression?
Can the horse cross over behind?
Is he shrinking from touch anywhere on the body?
Can he lift his legs?
Can he stride forward on all four legs?
Any swellings or inflammation, stiff places or obvious injuries?
Does the horse hop like a bunny, lope like a giraffe?
Since I have a roller coaster experience with one of my horses — sometimes he's sound and sometimes he's not — I'm really tuned into this question. People may say, well, he'll warm out of it. Maybe yes, maybe no. I want to understand the problem and help him with it, before I ask more of him. I want to ride in such a way, if I'm riding, so that the horse does not become more stiff afterwards. The exercise, whether riding or ground, needs to support and heal rather than set him back.
And when I do ride him, I ride him gently, and therapeutically, going over cavalettis, gentle trots, sometimes on uneven terrain, exercises designed to strengthen his muscles, tendons and ligaments. I must check in with my own body and do a Mounted Body Balance session on myself to make sure my body is not restricting him in any way. I try to focus on the things that feel so good about riding him – he's so peaceful to ride, I love the way my legs drape down his sides. I love that I can sit his trot, he feels like an ocean liner. I continue to ride and mix it up, doing some Equine Body Balance on him before or after each ride, or in between, which supports the exercise we're doing.
With the horse who may not want to lift a hind leg but is otherwise sound, yes, you can generally ride the horse, but we need to continue to work on why it's hard for her to lift that leg. With the horse who can't disengage behind, there is something more complicated going on that needs to be addressed. Some suppling exercises added to the program of bodywork will help with that in a lot of cases. You can possibly ride that horse in a straight line but not do any lateral work. I may need to look at how the rider's position may be impinging on the horse's movement. We may add some gentle suppling ground exercises to increase lateral flexibility. If the horse is having trouble raising a foreleg or striding forward, I want to flex the forelimb to find out where restriction is without causing pain. Sometimes the problem is at the far end of the horse from what appears obvious.
While the body is complicated, with its elegant and efficient network of nerves, blood, bones, lymph, muscles, nerves, tissues, organs, etc., it is possible to support the health in the horse with non-force techniques specific to certain conditions. When we are mounted, we can increase our knowledge of how our bodies affect our horses and how they might also help us so we can be more comfortable and efficient in the saddle. This work plus self-care can do wonders for horses and their owners, making it easier to develop a treatment/ rehab program that best suits their needs.
(c) Susan Smith, Horses at Liberty Foundation Training, Equine Body Balance (TM)
Related link:  What? No more riding?
Please see my
Events for information on upcoming clinics and workshops.
Latest posts by Susan Smith
(see all)