Once again, I address the thing I'm not all that good at: resolutions for the New Year. I try to make them easy and attainable, otherwise they go the way of crash diets and best laid plans that get forgotten the moment stress or a better offer sets in.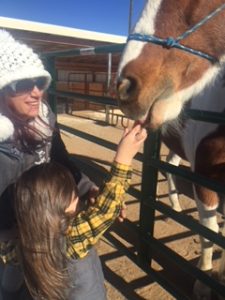 This Christmas we had the joy of having our wonderful family: son Cory, wife Amber and three-year-old grandson Avery visiting.  Their visit brought many new insights to me, as it reminded me what it was like to be new parents . The care of new parents is so special and sweet, and all-consuming.
The other thing dear little Avery brought to me was the sheer joy of discovery. He got to feed and pet horses for the first time. If I'd had the video running I would've captured his squeals of delight and jumping up and down. I did catch this photo of Avery feeding Patches a carrot with his mom standing by.
So this brings to me to the first two Horse-olutions for you for the New Year:
Add a global view to your vision. If you find yourself getting really focused on one thing: a
behavioral issue, a health issue, etc., take a step backward and see the bigger picture. In working at liberty and bodywork, many times I've experienced a horse who couldn't stand the scrutiny of the person working with him. Either she was too close or her concern was too great. I ask her to take a step backward and the horse will turn his head to her and acknowledge her beautifully. Her recognition of his need for space was profound. This is a metaphor for life.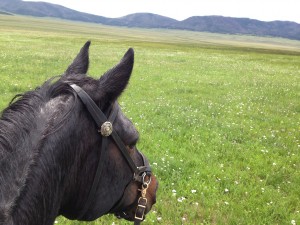 Continue the joy of discovery. A new trail, a new experience. Just yesterday my mare Jazzie decided she wanted to take a different trail home, and we bounded through the arroyo and up a hill to arch around some houses to home.  The joy in her was so much fun. I was reminded of Avery with his squeals of delight at getting
to pet the horses, and finding a special bond with one of them in particular.  As a child my parents took me into the English countryside for picnics. The highlight of that trip was getting to pet a horse over a fence. Perhaps that was the start of the addiction for me.
Maybe you'll discover something new in one of your horses, or in your life. I wrote about this last year, but new never gets old!
Respect differences. Notice how you interact with different people. Horses do that too. They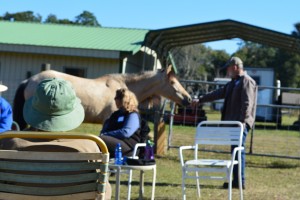 don't respond to everyone the same way. Sometimes you are drawn to people and sometimes repelled by them. Sometimes you think you will be friends with someone but the friendship never quite happens. Horses are capable of great bonds with each other and people. Notice what they are and protect your horses from those they aren't comfortable with, and fill their lives with positive relationships if you can.
Work with energy. Energy is part of the previous horse-olution but is part of everything we do. Horses seek positive, grounding energy in humans. It's not necessary to do anything, just be yourself. If you don't know yourself well, the horse may know you better than you know yourself. If you're anxious and your anxiety transfers to your horse, pay attention to that. Maybe change your agenda for the day or until you can become still inside.
Just know that every emotion you have, the horse experiences. They may not understand its complexity, but they feel it. The horse's presence may be calming, but make sure your presence is not disruptive to the horse so he or she doesn't absorb it and act on it. Don't hide your emotions, but on the other hand, I think it's best not to use your horse as a dumping ground for emotional baggage.
Talk to your horses and around your horses. This past week my granddaughter Ariana and I were working on some teaching videos with the horses. The sounds of our voices put them to sleep. Of course, that could mean we're incredibly boring, but I tend to think it was soothing to them. I did some hands-on, and all the horses not receiving any work dozed off.
I've noticed that when I'm mucking, or brushing, if I talk to them, they become very relaxed. They like my noticing things about them, asking how they got this scratch or noticing where they are sore.
Work with other horses. It's easy to think all horses do the same things, and there are some general things that all horses do. But when you get a chance to work with multiple horses, it broadens your view of the horse world.
When I meet horses, I want to take in their personalities. Who are they? What do they want to show me?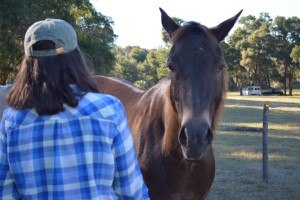 When I only worked with my own horses, I had a limited view of them. Since I see many horses, I can bring the knowledge I gain from others home to my horses and they benefit. That's why the workshop setting is so valuable; we get to work with many horses and see differences and similarities.
We can also gain a more neutral perspective.
Remember gratitude.  With all the wants entering into daily life, I remind myself to be grateful for what is. For family, the horses I have, the health I have, the work I'm entrusted to do.  With each year, new opportunities arise and others fall away. To mourn the loss of beloved beings is natural, and takes time and a holding place. Gratitude has its place in honoring what was loved and what is still here to be loved. Spring will come and a new order can rebalance losses and gains in ways we never can predict.
Breathe. My mare Zuzka started teaching breathing exercises at workshops about two and
a half years ago. She wanted people to just stand and breathe with her. She wanted me to breathe with her. No touching, nothing else. While I was teaching a lesson, she decided she didn't want to do the lesson, it was time to stop and breathe.
That was a more important lesson to me than what was on my agenda!
This way of breathing is a way of being together without doing. She may want to breathe on your face, or synchronize breath with you. While doing bodywork, often I will feel the horse breathe into a tight or sore spot. This is another way of using breath in a very constructive manner.
Yoga breathing exercises are great, yet I know no horse who has taken a yoga class – they know this on their own. Zuzka's message is quite simple: stop doing and breathe.
The breathing is something I now do often – before I ride or do groundwork, or when I feel I'm not quite centered. Just taking that moment can make all the difference.
Happy New Year! My wish is for your new year to be full of joy and promise!
(c) Susan Smith, Horses at Liberty Foundation Training, Equine Body Balance (TM)
Please see my
Events for information on upcoming clinics and workshops.
Latest posts by Susan Smith
(see all)